2nd Line IT Service Desk Analyst,
IT Service Delivery
Contract Type: Permanent
There has never been a more exciting time to become part of Lookers. We are proud to have recently been voted one of the UK's Top Employers and looking after both our people and our customers is at the heart of everything we do.
About the role
Key Accountabilities
* Troubleshoot desktop and system problems, diagnose and solve hardware/software Incidents/problems
* Provide exceptional Service support to the business
* Provide solution(s)/work around(s) to incidents and Problems
* Escalating IT issues to the 2nd Line Team Leader where necessary
* Contribute to polices, processes and procedures
* Install, maintain and support new applications
* Work to SLA thresholds for incident(s), request(s) and problem(s)
* Establishing a good working relationship with the business and 3rd party's
* Keep up to date with advancements in technology
* Work with a variety of business and technical teams to enhance service
* Supporting Users on both hardware and Software applications
* Administer Active Directory
* Creating purchase orders for IT hardware/software
* Setting up new users and disabling expired accounts in accordance with HR requirements
* Creating knowledge documentation
* Additional responsibilities as requested by the 2nd Line Team Leader
Technical Capabilities
* Experience in IT Service Desk Applications
* 2 years' experience in an IT Service Desk environment
* Active Directory administration
* Exchange 2010 mailbox administration
* SCCM & O365
* Mobile Iron administration
* Network trouble shooting, TCP/IP and general WAN/ LAN trouble shooting
* ITIL Certified
* Windows 7
* Windows 8
* Windows 10
* iOS
* Android
Behavioural Capabilities
* Regularly communicate and interact with members of other departments and builds strong working relationships.
* Work with colleagues to achieve team goals.
* Shares best working practices with colleagues.
* Act as an ambassador of our brand.
Why us…?
In recognition of the hard work, flexibility and commitment of our people we have recently introduced a new and improved industry leading benefits package. This includes competitive basic salaries, enhanced holidays that increase with service, critical illness cover after 2 years, one year fully paid maternity leave for women and for some roles a company car and high earning potential through commission or bonus.
As well as working with a great bunch of people you can also benefit from ongoing development with investment in specific brand and management training and the opportunity of a long term career path with one of the UK's Top Employers 2017.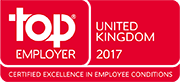 If your application is successful we will conduct relevant employment checks prior to you starting with us. Depending on the role, these could include us verifying your recent employment, address and credit history. We may also conduct a criminal record check and a driving licence check.
Please note: We will close vacancies once the required quality or number of applications has been received.